Introduction of Total Beauty Oasis Ankh Salon
Hello and welcome to Oasis Ankh salon!
We will be glad to receive you in our salon and offer you
some drink harbal tea while introducing our services and products range.
Our salon's philosophy is focused on the concept of "Total Balance Beauty".
We believe that the true "beauty" is not only the outward beauty,
but also closely connected with the health condition
and the inward condition of the hair, skin, and body.
This is a "happy beauty" altogether!
Hence, our salon's menu is thought as an overall service package
comprising hair care, skin care, and body care.
In compliance with our philosophy, Oasis Ankh Salon
is designed to provide our customers with a soothing and relaxing
atmosphere, and a healing energy. Relaxing water sounds
and some soothing music are used for this purpose!
Even though we can't speak English fluently,
but but but……
our staff is friendly and fun! WELCOME to Oasis Ankh!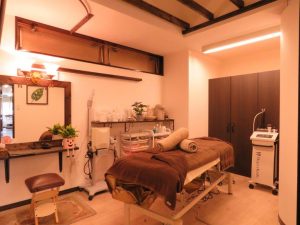 About Beauty Menus
Our staff will be here for you to answer your questions,
to give you the best they have to offer, and to make you
fully profit from their long experience.
shampoo cut — 5,500yen +TAX
perm — 9,000yen~ +TAX
Herb magic color — 9,000yen~ +TAX
Henna — 9,000yen~ +TAX
straight perm — 11,000yen~ +TAX
You'll be served by a designated stylist from start to the finish.
Just sit, relax and chat while we style your hair for you.


Ankh Original/ "Haskap Beauty" Head Spa, Scalp Care Menu
Ankh Original/ "Haskap Beauty" ①Head Spa, ②Scalp washing therapy (Special Price in Progress)

Ankh Original Natural New Items Special Experience Price
Each ① or ② menu 8,000 yen 

It takes about 90 minutes. 
 
Please try nutural head care of Haskap(honeysuckle berries)beauty.
Haskap beauty water scalp care
Hydrocrapy (Hydrotherapy method) to repeatedly apply Haskap water
with shower of circulatory organ.
It encourages healthy hair making while balancing autonomic nerves.

Ankh Beauty Education Channel
In a world where there is an overwhelming amount of information,
it is important not only to know about general care methods
and products information displays, but also to improve one's ability
to select the information that suits them the best – the so-called "beauty literacy power".
Therefore, as total balance beauty planners, we are working through hair
educational series to convey the power of natural products such as herbs
and aromas based on theories of Oriental Medicine. 
In Oasis Ankh salon and through these hair educational series,
we would like to support-using various ways-women (and men) who want
to enjoy a beautiful hair and skin,
and care about all aspects related to lifestyle design
while progressing on their own.
ALFA Maruyama (Maruyama Pia Bild) 3F Odori West24 Chuo-ku Sapporo (1 mins. walk from Maruyama Kouen subway exit no. 5)
OPEN — 10:00~19:00
CLOSED — Mondays,Tuesdays
Call us → (011) 622-8828

Come and enjoy a luxurious evening in Sapporo with a gorgeous makeover and a gourmet dinner