There is the "Hair&Make Oasis Ankh" in beautiful place Maruyama.
Let you come to our salon and enjoy to walk around Maruyama.
 
 
 
 
 
【Acsess】
(1 min. walk from Maruyama Kouen subway exit no. 5)
From Exit 5, turn left and go straight until the next traffic light.
You can see "seven eleven" on your left side.
Cross the intersection.
From there you can see our signboard.
 
 
Look!
There is an elevator inside the automatic door.
You should take this elevator.
Don't climb the steps!
 
 
 
 
 
 
 
 
You'll take go up third floor by the elevator, Oasis Ankh.
…
地下鉄東西線円山公園駅 5番出口から徒歩1分。
出口から左に曲がり、セブンイレブンの前を通って交差点を渡ります。
白い建物です。
階段は使用せず、奥のエレベーターをご使用になり、
3階までおいで下さいませ。
【Location】
There are a lot of dilicious bakelies around our salon.
 
 
 
 
And,sabway's exit No.6, there is a shopping mall, "Maruyama Class".
You can eat many fresh meals, buy nice clothes and accessaries…etc.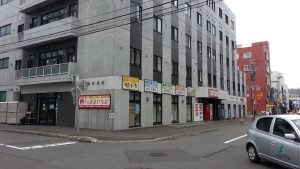 Also, back side of our salon,
there is a local market " Maruyama Ichiba".
There are a lot of small original shops.
They are yummy and fun shops!
 
 
 
 
After you came to our salon, you'd try to walk around this Maruyama eria.
…
Another,take a 15 minutes by walk from Maruyama subwey station,
There are Maruyama park, maruyama zoo and Hokkaido Shrine.
They are very much beautiful spot.
…
私たちのお店の周りには美味しいパン屋さんがたくさんあります。
マルヤマクラスという素敵なショッピングモールもございます。
また、古くからの円山市場もあり、
美味しくて楽しいお店がたくさんあります。
近くには円山公園、動物園、北海道神宮もあります。
ぜひ、サロンにお越し後、
円山散策を楽しんで下さいね。
☆.。.:*・°***** ☆.。.:*・°***** ☆.。.:*・°☆.。.:*・°***** ☆
Beauty Salon Hair&Make 【Oasis Ankh】in Sapporo,Hokkaido
ALPHA Maruyama (Maruyama Pia Bild) 3F
Odori West 24, Chuo Ward, Sapporo City
(1 min. walk from Maruyama Kouen subway exit no. 5)
OPEN 10:00~19:00   
CLOSED Mondays,Tuesdays
【What's "Ankh"?】
The Ankh is an ancient Egyptian amulet that symbolizes life and spirit;
it was called the key to open the door of destiny.
【LOOK】
We will endeavor to build an environment in which both our employees
and our customers can come together and share their dreams,
aesthetic sense, hearts, and minds.
We want Ankh to be a place that is centered on
relationships, even though we can't speak English fluently.
but but but……
We are a friendly and fun team!
WELCOME to Oasis Ankh!
☆.。.:*・°***** ☆.。.:*・°***** ☆.。.:*・°☆.。.:*・°***** ☆